Posted by Daniela Vladimirova | Filed under self-portrait
Ever since I've bought my ultrawide Sigma 10-20 mm I've desperately wanted to do this. But now that Hair's propagating and requiring an ever growing amount of time to style and keep in place, the right moment never seems to come: the effort to make my head look decent and use one of my paper table covers as a background and set up camera and strobe and up… My arms grew as long as those of a maned sloth only by writing all this down. It's been years since my self-portraits have been mostly shot with my phone cam so that my aunt would recognise me in social networks. Talk about lazy.
Yesterday, though, the planets aligned and the right combination of rain, restlessness and lack of work joined forces with a heaven-sent pause in my sense of decency. A scruple-removal also needed to wear my old, atrocious Chuck Taylors, a legacy of another life which I found in one of my buried shoe boxes – they were already ripped around the seams back in 2006, I'd say. (Paolo Nutini, you're a nobody.)
In the sediments of my brain my inner critic is already starting to say "You're fucking 33, for crying out loud!" so I better post this before it prevails.
Tags: ultrawide
Posted by Daniela Vladimirova | Filed under let me show you
This year, D. and I decided to gather our families and celebrate Easter all together. Please bear in mind that my family are Orthodox Christians and therefore their liturgical year follows the Julian calendar (instead of the Gregorian calendar, as with the rest of the world). Let's try to clear this up: For the Orthodox, Easter is the most important religious holiday and is usually celebrated something like twenty days after the Catholic version. It all started because of a calculation gone amiss that we got landed with in 325 AD, at the Council of Nicaea. They were all there, talking about that wretched Arius, lecturing on the creed, forbidding obscure practices like self-castration (I'm serious), and among that stuff Constantine, Athanasius & Co. passed a flawed calendar which generated an extra day every 128 years. (Probably some of them knew about this but didn't want to sound like party poopers in front of the Empreror. They may have thought "Oh, come on, in 128 years there'll be many other Councils to fix this.")
Catholics amended this blooper more than a thousand years later with the Council of Trent. From shorthand notes of the day: "March equinox, anyone?". Unfortunately, pope and patriarch had already cursed each other through excommunications and anathemas at the end of a long period of dirty tricks and kicks in the eye, around the turn of the millennium, expressly because the Orthodox Church insisted on following the ancient precepts, whereas the western one had more or less chosen to do as it pleased and had introduced showers of new sacraments and rites. It goes without saying that for the Orthodox the safeguard of the precepts of the archaic fathers had become a matter of honour from that point on, even when it meant to maintain the most trivial typos and calculation blunders.
The first of the two Easters – the catholic one – is already gone, in a culinary orgasm that represented an actual risk of kicking the bucket without any possible resurrection. The second one will be on May 5th instead, and involves stuffed lamb and battles of decorated hard-boiled eggs.
As you know, family congregations must follow a whole ritual, like the compulsory ceremony of looking through pics of the kids when they were blond, naked and unaware, in holy communion dress or karate poses and so on, accompanied by a variable number of set phrases which you're damn sure you'll hear, like: "Looking through old pics does not give you the same feeling you get from digital photography". I'm particularly proud of myself, because I didn't reply with: "Right, because the quality's better, the exposition is almost always accurate, the tint isn't purple or brown, there's no protruding mold, and we'll keep them just the same way till hard drive do us part". I didn't even pronounce the word cloud, but produced this instead.
Ta-daa! My Bali posts (only in Italian) have ended up in a book, along with a hundred or so pics, and now this big fat and precious artefact paid with my copious sweat is physically present at home.
(I'm keeping it in hand so as to give you an idea of its dimensions. Keep in mind that I don't come in XS size.)
It's practically the best of both worlds: digital photography meets the best printing practices of the Blurb gnomes to daze and confuse your detractors and throw some dust in the eye of your enemies. It appeases cultural gaps and hushes up thousand year-old conflicts. It's just a win-win.
I've had the idea of a photobook while I was still in Bali, even if only for personal use. (I really don't see how anyone should desire to see D.'s naked-torsoed jungle-showering pics so much so as to be willing to cough up the billion € needed for such a joke.) It has multiple purposes: I never print pics and this sad truth has come to an end. Had I done it earlier, for example, I would have discovered that printing makes everything look darker. Putting together the various sections helped me bypass that part of me that is terrorized stiff by Major Works and instead of getting exposed would rather stick its head under the duvet for the rest of the day. Starting work on a long-time project that entails potential dead ducks along the way stimulates procrastination and energy leakage. I start squeezing in thousands of small tasks between myself and the assignment so that my conscience can say that everything's all right while I'm still not doing it. I could even go as far as saying to myself "I can't right now, I need to get some ironing done". That's why breaking up a task in smaller goals, like a post or a tweet, can help people like me who need to set traps to themselves in order to go ahead. (The main reason for this disorder escapes me, I may be too workaholic / cowardly / poor / self-employed / you name it).
There's also a PDF version and a full online preview.
Tags: book
Posted by Daniela Vladimirova | Filed under in the real dark night of the soul it's always 3 o' clock in the morning
For weeks on end, I've dreamt depressing or strange dreams about me travelling or moving out of places, and no matter how much I racked my brain I couldn't connect these images to any experience or need.
Beware, the first dream is very dismal, I've warned you: my brother and I are travelling on a frosty night, in a foreign land, on a neon-lit bus without seats. Our clothes are ugly and coarse, we keep our eyes turned down like refugees, and we are laboriously dragging a great number of heavy suitcases and bundles. We're changing buses as the night goes on and dawn draws near, but then exhaustion kicks in and we start forgetting stuff. A suitcase here, a bag there, the number of pieces of luggage gets slowly reduced until during the last portion of travel my brother dismounts completely empty-handed. I run after him trying to tell him that he has to help me out with all the bags when the bus suddenly leaves and I've left absolutely everything I have on board.
In another dream, in a beautiful Spring afternoon I'm visiting the depot of a clinic or nursing home which is incidentally full of aquariums. One of the aquariums explodes and the giant red fish it hosts starts jumping around the depot so riotously that for some time I struggle to catch it, but at the end I manage to snatch it and put it in a temporary barrel full of clean water, making a mental note to myself to find a more suitable arrangement as soon as possible.
And many others of the same sort, often with my brother, sometimes with suitcases and bags and clothes. I've finally identified the reason for these recurring dreams only the other day. I've applied for Italian citizenship, a few weeks ago. (I've taken advantage of the fact that the town of Isernia, which is nearby, is still administrative centre. They're consistently pulling prefectures out from under our feet these days.)
Let me tell you that while I was applying for Italian citizenship I didn't grow sharp Sophia-Loren tits overnight. I didn't buy any of those form-fitting robes that cram the foreign mind's imagination when they try to visualise the average Italian woman (remember Fergie singing Be Italian and seducing kids in Nine?). I wasn't asked to take part in Italianness quizzes like "Describe the phases of coffee brewing with a home macchinetta", "Match the following specialities to the relevant region" or "Do you put garlic in carbonara?". Gosh, they may have saved them for a later stage, when they've finished checking if I've actually attended a couple of schools and if I've been stupid enough to get caught doing something illegal. If it all turns out favourably in a few years and I haven't disputed the procedure for expiration of the legal terms, they may still trick me, while pledging allegiance to the Constitution, saying something like "and now, to seal this agreement with your new country, you must devour this piece of maggot cheese" (and they produce a dish with stuff moving on top of it).
Italians – the romantics – only accept the ius sanguinis principle when it comes to acquiring citizenship. Put simply, this means that the grand kids of banished people who've never set a lovely foot on their august ancestors' motherland and don't even speak its language have higher odds at obtaining it, if compared to people who are born and bred in Italy, like my own brother or the girl of the owners of Casa Amica, a Chinese restaurant in Via Casilina, who speaks the local dialect as if taught by Alberto Sordi in person.
The procedure which will be applied to my case is naturalisation, a term they've borrowed from biology and which is used for plants and animals that thrive and reproduce spontaneously in places which are far from their country. No, I won't be asked to mate until I conceive on Italic soil as proof of familiarization with my surroundings: remember, the word "spontaneously" is key, here.
Applying for Italian citizenship has had a bigger impact on my psyche than emigrating, way back in 1991. As always, I stumble on symbols and matters of form rather than on things themselves. So it's only now, 22 years later, that I start twitching and I dream that I lose my papers and my things, or that I feel like a fish out of water.
To lighten my Italian readers' minds, I don't mind passing off as certain that naturalisations are an asymmetric and unidirectional process which won't affect the amazing uniformity that exudes from the word "Italy" and the one and only people it represents at all. I'll go and tear the yoghurt recipe I dictated to my neighbour from the balcony the other day.
I've had a hard time asking myself what I am embracing and what I am renouncing to, but I'm struggling to find a common denominator. Except these, which I'm announcing as an intention:
- I solemnly promise I'll learn all gestures and apply them to the most appropriate situations;
- To let go of that uncertain /l/ once and for all;
- To rise my level of intolerance towards any climate figure below 78 and above 85 degrees F;
- To immediately start expressing a hearty contempt for my newly acquired compatriots;
- To cook pasta always al dente.
Tags: citizenship
Posted by Daniela Vladimirova | Filed under in the real dark night of the soul it's always 3 o' clock in the morning
Chronobiologically desynchronised, in queue for trans-meridian alignment, floating in space. As time goes by.
Tags: jetlag, moon, photomanipulation
Posted by Daniela Vladimirova | Filed under Uncategorized
Sorry for spamming you with emails from older posts: I'm trying a new translation plugin which created new posts from existing multilanguage content and sent them all out to you :/
Tags: oops
Posted by Daniela Vladimirova | Filed under Uncategorized
LE DUE – GETTIAMO OGNI PUDORE AL VENTO – SPERANZE DELUSE – ASSISTENTI DI VOLO – RELATIVI CULETTI – LAURA PAUSINI E L'IMPREVISTO – SICUREZZA DELLE RETI INFORMATICHE – MANGIAMO MOLTA FRUTTA – LE NOTTI BIANCHE – LA RISPOSTA ALLA DOMANDA FONDAMENTALE SU: LA VITA, L'UNIVERSO E TUTTO QUANTO
Alzo gli occhi e sono le due. Duezerozero. Cerco di stringermi sulla sottile sediolina blu scuro, in questo lussuoso e gelido aeroporto mediorientale. Con il passare delle ore, il mio corpo si è progressivamente raffreddato per l'aria condizionata e la stanchezza. E io mi sono via via spogliata di ciò che rimaneva dell'imbarazzo e ho indossato, sui pantaloni blu scuro da marinaretto e la canottiera a righine bianche e blu, nell'ordine: un cappello di paglia a tesa larga con nastro di striscioline di pelle e decorazioni d'ambra (che avrei poi perso il primo giorno, a Bali, dopo averlo faticosamente trasportato per mezzo mondo attaccato allo zaino); una lunga sciarpona di lino bianco e marrone che pianificavo di usare sui capelli, in segno di rispetto, nei luoghi con forte presenza musulmana, e che invece mi avvolgo intorno come una coperta di lana, un cardigan di cotone color lavanda, e infine, per ultimi, degli atroci calzini azzurri da trekking con punta e tallone rinforzati e a contrasto, sotto le Birkenstok infradito.
Mi giro e vedo D. che ha scovato una camicia di lino nel suo bagaglio a mano e se l'è abbottonata sulle ginocchia. E ho troppo freddo per tirare fuori la fotocamera dallo zaino e scattare una foto. Questo bel quadretto da turisti scemi è la nostra gentile concessione per i passeggeri dell'aeroporto di Dubai. Siamo atterrati alle 23.00 ora locale (l'una di notte, per noi) e nel passaggio dall'aereo alla passerella di Emirates ci ha investiti un vento caldo e secco: sensazione di piacevole calore durata meno di mezzo secondo, poiché appena entrati in questo mastodontico mostro illuminato per le nostre cinque ore di scalo ogni speranza di poterci riscaldare è definitivamente tramontata.
Ma riavvolgiamo il nastro. A Fiumicino siamo saliti su un A380 pieno di assistenti di volo di ambo i sessi che parlano una ventina di lingue e che sfoggiano culetti deliziosi (e cappellini con il velo per le donnine). Questo aereo è semplicemente wow, ha luci graduate per aiutarti con il jet lag, servizio impeccabile, cibo caldo e totalmente halal e vino toscano in bottigliette. Mi drogo di film che ancora devono uscire in Italia (Prometheus, commedie romantiche, varie versioni di Biancaneve e uno stupidissimo film strappalacrime con Kate Hudson e Gael Garcia Bernal) e radio online e spio quello che vedono gli altri passeggeri.
Dubai è la prima tappa, ed è la prima volta che metto piede in Medio Oriente. Si tratta forse del posto più cosmopolita che abbia mai visto. Oltre all'enorme quantità di viaggiatori, commessi e personale dell'aeroporto provengono evidentemente da almeno una quindicina di paesi diversi. Canzoni di Laura Pausini, cantate da baristi russi, che servono arabi in abiti tradizionali, che trasportano Sony PlayStation sui loro carrelli. Sotto ai burqa e ai chador fanno capolino scarpe da copertina di Vogue, centinaia di Blackberry (ecco dov'erano finiti) e borse Fendi. Ragazze bionde che indossano Daisy Dukes passano totalmente inosservate.
Scopriamo che la versione di Internet a pagamento che l'aeroporto concede per i propri augusti ospiti blocca unicamente la porta 80 e quindi possiamo navigare con tutte le app che ci pare salvo il browser (H3G mi aveva gentilmente fatto sapere, poco prima, che navigare con la mia connessione dati negli Emirati Arabi Uniti mi sarebbe costato 28 euro più IVA al MB), ma l'entusiasmo presto si sopisce. Fatto il primo giro dell'aeroporto, il freddo e la noia si fanno sentire. Le commesse dello stand MAC hanno probabilmente deciso che non sembro abbastanza promettente, come cliente, da sprecare un tutorial per il trucco su di me, quindi non resta che cercarci due sedioline vicino al gate da cui partiremo alle 4.15, finire l'incredibile frutta secca che abbiamo acquistato in quantità industriale e aspettare. E aspettare. E aspettare. Queste luci bianche sulle prime sembravano bellissime. Ora inizio a odiarle. In ogni cluster di neon ce n'è una che ronza. Cerco un modo in cui sedermi per riuscire ad addormentarmi ma non c'è verso: non è un posto in cui riposarsi e ascoltare Debussy, è un posto in cui spendere.
Dalle due in poi perdo ogni contatto con il ground control del mio corpo e mi metto a vagare per lo spazio della mente. Benvenuto, jet lag. Sono sveglia da non so quante ore, cerco di sottrarre e sommare le ore di viaggio e quelle rimanenti per capire che ore saranno per me quando atterreremo a Giacarta. Perdo i sensi ritmicamente e per massimo 12 secondi, poi riapro gli occhi, e sono sempre le 2:00. Le 2:03. Le 2:07. Le 2:12. Nella mia fantasia ormai ottenebrata, attribuisco a questi tre caratteri (4 1 5) dei poteri salvifici – la combinazione della cassaforte che mi tirerà fuori di qui, la felicità, il nirvana. Non è 42, Douglas Adams, la risposta è 4.15! Ormai ho totalmente confuso ogni conto e quando alle quattro mi ritrovo su un altro aereo, ancora più freddo, a mangiare pasti sempre più piccanti, sono così stanca che il sonno ormai è fuori questione: nei miei deliri, allucino che le otto ore di turbolenze e vuoti d'aria ininterrotti che comporta l'attraversare l'Oceano Indiano non sono altro che espressione della mia semiveglia simile a un doposbornia, irritabile e impaurita. Con gli occhi chiusi, ascolto i suoni di Casablanca dalle cuffie (una non funziona ma non fa niente), as time goes by.
Posted by Daniela Vladimirova | Filed under a nerd's nerd
The smartphone market made this quite clear: more or less 3 buyers out of 4 bought an Android phone in the last quarter. Many of them have bought one for the first time and then come for dinner or for tea, take the thing out of their purses and use sentences like "now I know you're a nerd's nerd" or stuff like that. This post is different from my usual stuff, I know, but it's convenient for me to collect a few thoughts that usually belong to Friday night conversation or to the super-secret, hush-hush forums I belong to and whose members have chosen to remain anonymous.
"I'VE GOT AN ANDROID, NOW WHAT?"
Where do I find the info? Find the forum / community where your phone is most discussed and sign up to it. For my old Acer it was Modaco, for my S2 it's XDA.
Rooting your phone. It sounds like a fearsome thing done by people with a neckbeard, but as a matter of fact it's nothing else but gaining boss access to the root of your phone, which in turn allows you to do a few things with Linux systems. The ever excellent XKCD illustrates this concept of Super User permissions here.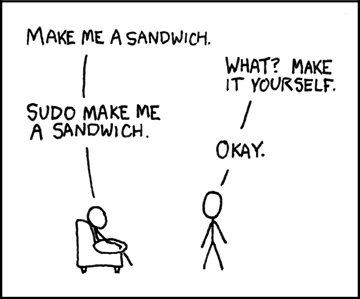 You usually install a recovery along with your root permissions, which in turn allows you to create/restore complete phone backups and to install new ROMs (=official, unofficial, user-created versions of Android). The aforementioned forum/community is the place where you'll find out your root/recovery options.
A few friends, at this point, keep asking: why rooting? Because it allows you to install a James-Bond-proof anti-theft software; you can use those bad apps with a skull on top; backup everything you got and send it to Dropbox or Drive (with Titanium Backup you can backup your apps and app data. What I mean is that my bank's app backup saved the token data even when I changed phone); backup all your texts from the dawn of times; remove those pesky manufacturer apps you don't care in the least about.
Finally, and most of all, because there are thousands of ROMs for people with different needs and without root access you can't set them up. There are ROMs for Christian churchgoers, ROMs with dragons, unicorns and certainly Harry Potter dedicated ROMs. There's all the trash you need, as a matter of fact. Futhermore, official OS updates take some time to turn up. For example, right now those who have a Galaxy S2 still can't install official Jelly Bean versions, whereas the first custom ROMs with JB were there since July.
Anti-theft (plus anti-virus). There are loads of free or paid apps. I'm currently using Cerberus, around 5 dollah, which geolocalizes your phone, takes pics from both cameras, gives remote control, wipe, etc. It also has this super-sexy thingy which allows me to send messages to the hypothetical thief, something along the line of "I know your exact geographical position, you &%$£"ç°". In the past I've also used LMaxi (free). Among the free ones today: Avast. Believe me: you need an anti-theft app now.
Launcher. I.e., start screen and app drawer. Go Launcher used to be the best in terms of customization opportunities, but has now become ginormous and fills your phone with other apps, stores and bullshit. As a matter of fact, it's the first ever Android bloatware. I've just installed Nova Launcher, which is light, no-nonsense and extra swift.
The launcher is the thing you'll use to customize your theme, as well.
Titanium Backup: titanic software that keeps your ass safe. It constantly backups all your apps (as batches, on schedule, etc.). Its cost is around 5 bucks.
Everything else is a matter of personal choice. I may remind you:
- browser (Dolphin).
- offline GPS.
- SMS backup & restore (hence its name).
- File Explorer.
- Zedge.
- …
Did I forget anything?
Posted by Daniela Vladimirova | Filed under in the real dark night of the soul it's always 3 o' clock in the morning
I wouldn't have thought, at the beginning of my adult life, that one day I would actually enjoy taking care of my home. Getting by in the greatest possible mess was one of the forms of my teenage rebellion against my mother, who – I'm absolutely convinced – at times would have preferred not having kids, should they trample on those spic-n-span floors. (That. And refusing to wear high heels. And hostile silences.)
I grew up in this strange fashion: Instead of sprouting upwards, it took me more or less thirty years to extend my presence from the area behind my eyes to the rest of my body. And only recently the fact that I occupy a space became apparent to my conscience. It so happens that after a gazillion of relocations, September was the final month of the Year of the Great Effort. It took me 1 (one) years to leave my House of the Spirits, in Rome, and get rid of the piles of stuff bundled up by the endless generations of OCD antiquarians in my family. It would seem that I belong to the same sort, but the truth is that I'm a sloth, so on top of an initial neatness (sheets that have been ironed 10 years earlier and winter/summer season cartons) I had planted a series of cubby-holes in steadfast growth. I currently live in a flat which is three times smaller than the previous one, everything here is diminutive (one of those places where you maximize spaces) and its maintenance gives me – surprise! – a great deal of peace.
I must have signed a sort of truce with myself, I guess: ideals and the "big picture" keep silent, my political conscience is asleep, I find lots of time for the petite and the insignificant, for bread and laundry and my home-made pesto, for unstructured pastimes, for silence and for rêverie.
In this general and amiably boring bonheur my dog had knee surgery – a troublesome and maddening thing that tied me home for weeks and framed me in a perpetual nesting scenario, carrying branches and dry leaves and cleaning. I've never cleaned so much my whole life. Let's set this straight: no Italian housewife would even remotely approve of my domestic management, first and foremost because I don't devote enough time and resources to meals, and also because I don't iron underwear.
(I'm planning to create the Italian housewife meme, consecrated to the ultimate battle against casual water drops on the kitchen sink and the strongly felt need to work their ass off each and every day in order to reach the elbow grease orgasm. Once I find the right pic I'm done. "A descaler? Shut up and scrub!")
Weird thing is that for the first time I feel that the steps I need to give substance to a few thingies that live in my subconscious and strive to go out are really within reach. In a word, it's not social life, pulling all-nighters and partying – right now, what really inspires me is doing the dishes.
Tags: cleaning pulire
Posted by Daniela Vladimirova | Filed under love
You were born in a three-floor house with a view on an entire valley, and all the houses around it, filled with your nursemaids and their nursemaids, were yours. You could choose in which garden to host your friends for your birthday parties. The centuries are carved in stone in your architraves, you have your conversation, your embroidered tablecloths, millions of rules and first and second and third and fourth courses. You used to take your friends to see the graffiti the nazis drew in your sitting room, at the time of the occupation. And you love thinking and sleeping it off.
I'm an immigrant, I come from the second world. I've changed countries cities and homes like you've changed a pair of shoes and my genealogy ends with my aunt (I haven't heard from her for the past 15 years). I don't hesitate, I don't save. And let me say this: upon our setting up our home, in this tiny rented flat in the middle of nowhere, it's a miracle if one of us didn't get killed.


Posted by Daniela Vladimirova | Filed under in the real dark night of the soul it's always 3 o' clock in the morning
Please meet, from left to right, my nazi super-ego, my barefoot ego and my subconscious. This is the most typical dream scenario: my old shrink would have rolled in this.